Every year on 8 March, most Italians celebrate La Festa della Donna. Men, and sometimes also women, give the women in their lives mimosa flowers. It is a widespread custom to not only give flowers to relatives and friends, but also to colleagues for instance.
You can even send virtual mimosa, so why not send some this year to female friends in Italy?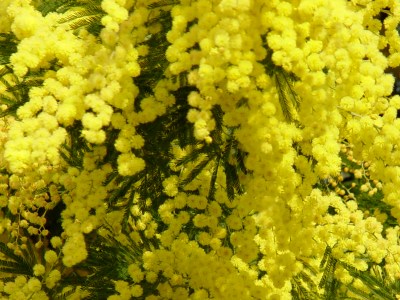 Although there is not much consensus on the exact origins of the celebration or the date, there are several key strikes and rallies for women's rights in the US, parts of Central Europe, and Russia at the end of February. Demonstrations for bread and peace marking International Women's Day in St. Petersburg at the end of February 1917 (8 March on the Gregorian calendar) led to the outbreak of the February Revolution.
Until the end of World War II, there wasn't one fixed date for the celebrations, but 8 March was used in many countries as a marker after the Third International proclaimed that date the be the "International Day of the Female Worker". And in 1946 the Italians chose 8 March as the yearly date to celebrate Women's Day.
The UN celebrated 8 March 1975, during International Women's Year, as International Women's Day and two years later proclaimed the "UN Day for Women's Rights and International Peace to be observed on any day of the year by Member states, in accordance with their historical and national traditions." In the Netherlands, for instance, it is celebrated on 2 February, in Belgium on 11 november.
So on 8 March, we give our mothers, wives, daughters, friends and colleagues mimosa flowers as a token of our appreciation. In the evening, many women go out for a meal with their female friends and often go clubbing afterwards in clubs that organise a women only night out that might even be topped off with a male striptease! And that's were the male appreciation usually finishes.
Do you have plans for International Women's Day? Or do you have a nice anecdote to tell? We would to read your comments!
by Hans